About Us
Sifnos Stoneware is a fairly new enterprise, based on a 5 generation long tradition, established in 2006 on the Greek Cycladic island of Sifnos by Antonis Kalogirou and his family.
A brief history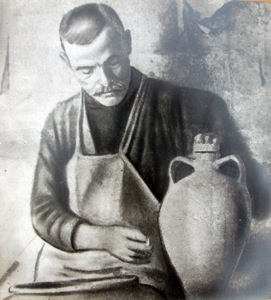 2nd generation potter Costas Kalogirou was born in the Greek island of Sifnos. Sifnos is well known all over Greece for its long tradition in pottery and its naturally occurring flameproof clay.
He learned the trade on the island and soon moved to Marousi, Athens to work full time.
In a time before there was a water system in Athens, drinkable water would be delivered from Marousi to central Athens in ceramic jugs called "stamnia", many of which would break on the way.
Costas discovered there was a business in making water jugs.
With the aid of his eldest son Antonis, he opened a workshop in Marousi along with his four other sons and established a high status in quality pottery making.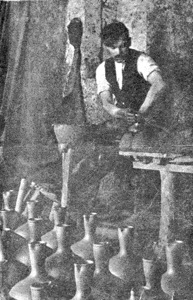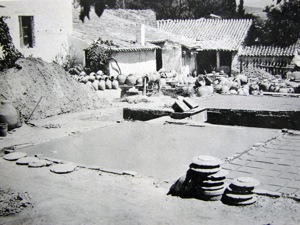 In 1933 Antonis had a son, who he named Costas after his father. Costas Kalogirou now the 4th generation wasted no time learning the secrets of the trade. Slowly he started experimenting with colors and new clays.
Move to America
In 1963, 4th generation Costas went to America and started work as a modeler designer for Stangl Pottery. Dissatisfied with a job in an office he left to take the position of plant manager of New Jersey based Chatham Potters which produced high quality stoneware pottery. There he increased production and sales and in 1967 he bought Chatham Potters.
It was in the U.S. where he completed the transition between earthenware and stoneware. He found that it is a more durable product that lends itself for much more creativity especially in the area of uncommon glazes.
Due to natural gas limits (necessary for firing the kiln) in New Jersey he was forced to move the business to Oswego, Kansas in 1976, along with wife Nina Kalogirou and their two little girls. They stayed there for 5 years, only to move back to New Jersey and finally close the business in 1984.
One year later, Costas and Nina gave birth to their son Antonis Kalogirou.
Move back to Greece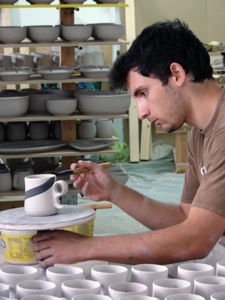 In 1991 the Kalogirou family moved back to Greece after almost 30 years in the United States.
Costas now retired, Antonis attended school in Athens and went on to study Mechanical Engineering at the University of Nottingham in England.
Not finding satisfaction in engineering, he decided he wanted to learn his father's trade.
Once he completed his studies Costas, Nina and Antonis moved to Sifnos where they started a family business and Costas transferred all his ceramic knowledge to Antonis.
Now
In 2006 they opened a workshop in the graphic village of Artemonas, Sifnos. The concept behind which was to produce a high quality stoneware product accessible to everyone.